Door to Door Delivery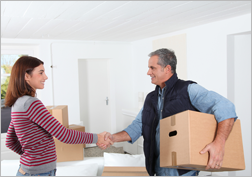 At the initial phase, Tuzcuoğlu experts conduct a free-of-charge survey on the goods to be removed. The purpose of this survey is to set the optimum vehicle that could accommodate the goods to be removed, number of staff to handle the process, and auxiliary materials required for packing. To secure a healthy and smooth communication between Tuzcuoğlu and the customer, please note that a foreman from Tuzcuoğlu will be present on site on the day of transport, and all customer issues and inquiries will directly be addressed to this person. Goods are insured against any damage that may occur during the transport. The insurance policy is delivered by the foreman to the customer on the day of the transport.
For settlement of damage, not Tuzcuoğlu but the insurance company will be the addressee for the customer. Kitchenware and other fragile goods are packed with special boxes and bubble wraps. Packaging is performed under supervision and with utmost care. Heavy goods are handled with special equipment.
Each package is numbered according to the name of the room it was removed from, and such numbering is considered when the package is opened on site. Tuzcuoğlu Transport company is committed to offering in a most reliable and safe way local and remote home-office storage services with its vast vehicle fleet and experienced staff, and providing a seamless transport service for customers. The company's wide range of business consists of door-to-door, office-to-office, local, remote forwarding, packaging, warehousing, assembling, heavy good transport, distribution, promotion, transport of textiles on hangers, expo and stand equipment, tourism organization, sound and lighting systems, bank transport services. Tuzcuoğlu offers reliable and guaranteed luxury transport service on box trucks of every size accompanied with specialized teams. We are just a phone away from you.
The Tuzcuoğlu expert that you may call to your target house or office should see all goods to be removed and accordingly decide on the size of the truck to be used and the insurance value.
Our expert also determines the service officers to be tasked during this process. Determining high-priority goods requiring care during handling is also among the tasks of the expert.
Expert survey for door-to-door delivery by Tuzcuoğlu is free of charge. Within the handling team is also a group of specialized assemblers and fitters. Goods are disassembled by specialized professionals and then assembled on site after removal. The date and hour of transport is determined whereupon a transport contract is concluded.
Door-to-door Delivery
Once your request for door-to-door delivery is received by us by phone, email or the communication form, the Tuzcuoğlu expert visits your home at any time and day you prefer, conducts the necessary planning and coordination in line with your transport demand, and accordingly decides on the vehicle capable of carrying the goods properly, packing materials according to the sensitivity of your goods, number of officers to be employed according to the sensitivity of the goods during this process and the insurance value of these goods. The expert then visits the target location and minimizes the potential risks.
After all these procedures are conducted, the Tuzcuoğlu transport expert presents you a written proposal also in consideration of your demands. You and the expert sets the date of removal and such date is recorded. The Tuzcuoğlu transport expert is specialized in planning and coordinating the removal process, and in the handling and placement of goods with minimum error and maximum assurance.
The transport expert is responsible for routing his/her team at every stage of the removal, and taking every kind of essential measure while handling your valuable goods. On the day of the removal, the transport expert will accompany you and introduce you with the Tuzcuoğlu Transport Team that will undertake the handling process in the subsequent phase of the operation. After these steps, the operation is started.
All goods in your house are protected by professional teams with boxes and packaging materials of various sizes, and brought ready for handling. All boxes are numbered and their content is indicated.
Furniture:
Furniture disassembled by special teams are wrapped by imported pet graft papers and bubble wraps, and then protected with sheet cardboards. Beds,
Sofas and Chairs:
Such kind of furniture is first wrapped with stretch films, wrapped with imported pet graft papers and bubble wraps, and then packed with sheet cardboards.
Drawer Chests, Dining Tables, Bedstands, Coffee Tables, Dressers, Glass Cases:
The corners of these furniture are first wrapped with special foam profiles previously constructed, and then fixed by means of stretch films. They are wrapped with graft paper bubble wraps and then protected by means of sheet cardboards.
White Goods:
White goods disassembled are packed with graft paper bubble wraps after fixing screws are attached and then protected by means of sheet cardboards.
Electronic Appliances:
Electronic appliances with their cables disconnected are wrapped by our professional teams with graft paper bubble wrap, foam and white paper, and then packed in boxes or crates.
Mirror-Glass and Fragile Goods:
They are wrapped by special white paper and soft bubble wraps , and then packed in tall boxes. For voluminous mirrors and glasses, special wood crates are constructed, and these goods are supported by polystyrene and foams and then packed.
Antiques, Ceramics, Porcelains, Drawings, Oil Paintings:
For such high-value goods, we construct wooden crates with special hinges with their interior coated with soft polystyrene. Such valuable goods packed with special packaging materials are brought ready for a safe handling inside crates.
Luminaries, Lamps
Luminaries and lamps dismantled are placed in crates constructed in their size and protected with white paper and foam.
Garments:
Garments on hangers in the wardrobe are suspended on boxes equipped with carrying hangers in the middle specially constructed by us. Other garments in drawers are handled after getting packed in flat garment boxes.
Shoes, Bags:
Shoes and bags are separately wrapped with white paper and packed in boxes. To prevent shoes and bags from getting crushed, compact boxes with high content are used.
Kitchenware:
Porcelain plates and cups are wrapped by means of soft bubble wraps, and packed in separate boxes. Other kitchenware is wrapped with white paper, supported with bubble wraps and packed in compact boxes with high content.
Bath and Cleaning Materials:
All accessories in the bath (towel, perfume, toothpaste, doormats, bathing items, electrical appliances) are packed in boxes by type. Dirty blankets, cylindrical chemical boxes and similar packing materials are not employed in Tuzcuoğlu.